Welcome to Sanriki Corporation & the shop "Eclipse" Web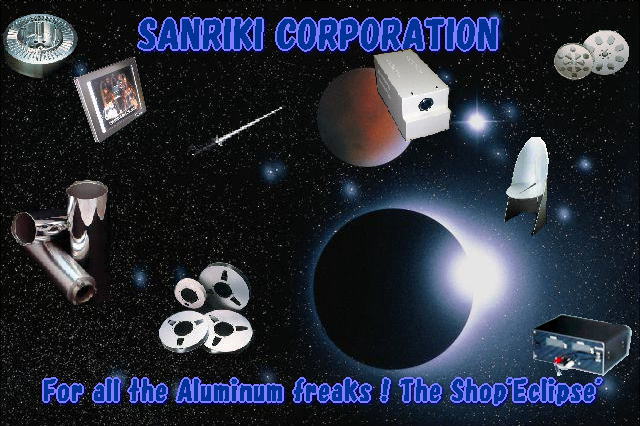 The best technology in aluminum processing.
But not only aluminum,
we also good at other materials as well.
Our processing covers the wide range from
press, sheet metal, machine cutting, grinding,
to the product assembly including printing .
See the company guidance of SANRIKI..


The original products of the shop"Eclipse"
where the stuff loves to work with aluminum,
are a little different from ordinary products.
Knowing that you value indivisuality,
they are products we want just you to have.
Accessories made from actual propellers.
Unique CD frames. Extensible batons.
and other aluminum good.


Sanriki Corporation
the shop"Eclipse"

CLICK HERE DAN ONLY
SANRIKI CORPORATION
& THE SHOP"eclipse"
2-7-6,OMORI-NAKA,OTA-KU,TOKYO,JAPAN
TEL 03-3763-8411@@FAX 03-3763-8415
E-mail
eclipse@sanriki.com
Home Page(URL)
http://www.sanriki.com

SANRIKI•h'…'ƒ'Œ'‰''"'…h HOME PAGE@/e/index.htm